What Our Customers Say
Jan A.R. HOES, French, February 24,2012
Dear Rebecca,
Finally we have found some time to send you a short note to thank you for your assistance in setting up our holidays in Vietnam. We have very much enjoyed your beautiful country. The guides were all willing and capable in explaining things, in very good French, which made things so ugh easier for all of us.

We are glad we had the chance to change our beach time resort during our stay as it was clearly too cold in Hoi An.

We will certainly come back one day and will contact you to make certain we once again have a good time in Vietnam.

Thanks from all 4 and hope to talk to you in the future.

Best regards,
Jan A.R. HOES
Ng Kok Yauw, Australia, January 2010
Dear Julia,
Thank you for organizing such a well planned trip for us. The Tour Agent Mr Anh was very professional, very good and he is a valuable staff to your company. The driver remained very professional too throughout the trip.

We are all very happy with the holidays and thank you once again.

Ng Kok Yauw
Home
Vietnam Travel News
Ocean Park
Ocean Park is a major attraction in Hong Kong, the luminous pearl of the Orient and world financial center in southeast China. Hong Kong's mild climate and coastal scenery, attracts throngs of visitors annually from all over world. Any visit to Hong Kong should include the world famous Ocean Park.
Hong Kong Ocean Park is located on the south end of Hong Kong Island. The larger of two sections is on the headlands of Mount Nanlang. The smaller section is in the Huang Zhu Keng Valley lowlands. With an area of 170 acres, it's one of the largest ocean parks in the world. The two entrances to Ocean Park (Tai Shue Wan Entrance and Main Entrance) are connected by cable-car.
Imagine a virtual trip through the ocean park from the lowland section to the headland section:
The trip starts from the middle Kingdom neighboring the Tai Shue Wan Entrance. At the middle Kingdom, tourists will see many ancient structures such as temples, pavilions and streets. Walking through the middle Kingdom, you come upon the Hong Kong Jockey Giant Panda Habitat, home to two lovely pandas, Anan the male, and Jiajia the female. Both are very popular and appear contented in their lush green environs. Tourists enjoy watching them eat and sleep.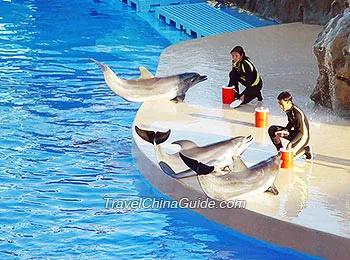 Dolphin Performance
Beyond the Panda habitat one enters the 'Dinosaur-Now and Then' exhibits. Here tourists will see vivid dinosaur models, especially the model of Tyrannosaurus Rex. Learn how the dinosaurs became extinct 65 million years ago. 'Dinosaur- Now and Then' attractions include the Chinese Alligator and Chinese Giant Salamander.
Continue on to the Dolphin Breeding Center. Here tourists will learn of dolphins' daily living habits and the importance of protecting this intelligent maritime mammal. Tourists can view at eight bottlenose dolphins including two little dolphins bred by artificial insemination for the first time in the world.
Additional wildlife exhibits on the lowland section include the Butterfly House, the Goldfish Pagoda among others. Most of the exhibitions emphasize the importance of protecting endangered species.
When visitors are ready for cool relaxation and a swim, they will find the Water Paradise delightful. The Water Paradise is one of the most well-equipped aquatic entertainment centers in Asia. Thrill seekers can slide down a huge slide or jump into the water from a diving platform. A swim through the zigzag watercourse will have you wanting to return to the Ocean Park.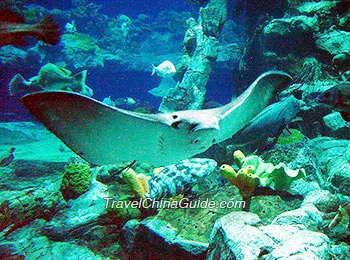 Shark Aquarium
Taking the cable-car, visitors ascend to the headland section. From the cable-car, you will have an unparalleled spectacular view of Hong Kong Island and the sublime South China Sea beyond. From here you can see the expanse of the marvelous maritime landscape comprised of Atoll Reef, Shark Aquarium, Ocean Theater, Ocean Park Tower and among others.
Atoll Reef is shaped like a three or four storied elliptical fishbowl. Tourist can view a variety of fish through six centimeters (about 2.4 inches) glass windows. Atoll Reef is divided into the shadow and the deep levels each exhibiting its characteristic aquatic life. The collection includes sharks, tropical fish and nautilus. Visitors will see morays, groupers, turtles and over 400 kinds of maritime animals from the Pacific Islands or the South China Sea. Apart from fish, some corals and cays are exhibited. Look, a tiny Pomacentridae fish and a gigantic Zebra Shark are swimming leisurely in the expansive Atoll Reef.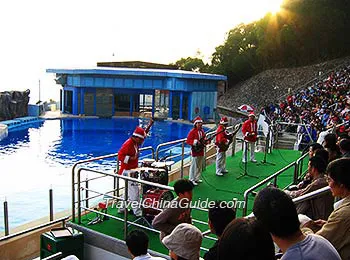 Ocean Theater
Actually, the Shark Aquarium is an underwater viewing tunnel to observe the dangerous maritime creatures. In the aquarium, Black Tip Reef Shark, Pygmy Swell Shark and other kinds of sharks may startle you as they approach. Be prepared to look sharks eye to eye as they pass safely over head. If you time it right, you might see divers feeding or playing with sharks.
Ocean Theater is the most famous and popular spot in the whole Ocean Park. It is an open-air theater in which dolphins and sea lions stage a wonderful performance in a huge pond. Under the guidance of trainers, adorable dolphins and sea lions stand in a line or jump into water and raise theirs heads out of water. You will be thrilled by their theatrics.
Ocean Park Tower in the headland section is another aerial vantage point, with a height of 72 meters (about 236 feet). It's slowly revolving cabin enables one to catch a panoramic view of the whole park when it rotates from the ground to the top.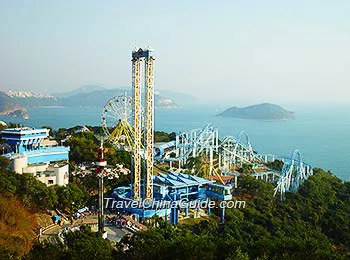 Headland Rides
Hong Kong Ocean Park also is famous for its many thrilling rides on the headland. The latest ride is the Abyss Turbo drop, which moves vertically on a 185 foot tower. As the platform slowly ascends, riders have an overall view of the ocean park. The platform stops briefly at the top before it drops abruptly, surprising even the prepared. The thrill is hard to express. Flying Swing is another ride where tourists are swung in chairs as high as seven meters (about 23 feet) through a gyrating wave. When it begins to swing, it seems riders will be thrown off. Another very visceral ride is the Roller Coaster, the longest one in Hong Kong. It twists and swoops with a maximum speed of 77 kilometers (almost 48 miles) per hour. Screams reach a crescendo as trilled riders are briefly suspended upside down. The thrill remains even after the ride is over.
Hong Kong Ocean Park will fill your day with wonder, pleasure and excitement and reward you with satisfying memories of your visit to the impressive Hong Kong Ocean Park.
Admission Fee:
HK$250 (Adult);
HK$125 (Children from 3-11 years old);
Free for
1. the handicapped holding ""Registration Card for people with Disabilities""
2. kids under three years old
3. senior citizens older than 65 years old with HKID.
Park Hours:
10:00 – 19:30
Theater Shows:
Emperors of the Sky: 11:00, 13:00, 14:30, 15:30, 17:00
Aqua City Lagoon: 19:30
Ocean Theater: 11:30, 14:00, 15:30, 17:30, 18:30
Sky Fair: 12:30, 14:30, 16:30, 17:45, 19:00
Sea Lion Fun Time Show: 12:00, 14:00, 16:45
Whister & Friends Show: 13:00, 15:00, 17:30
Time is subject to weather permitting without prior notice.